Why us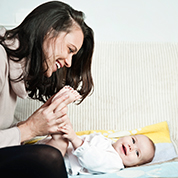 We do it all.
As a full-service domestic recruitment agency, we recruit, screen, and secure the most qualified and reliable domestic professionals. During a detailed Client Consultation, we gain a full understanding of our clients' needs. We provide our clients with Hire Kit that includes essential information and hiring forms. Each search is initiated by drafting a customized job description and continued by reviewing a large number of pre-screened candidates. We introduce top candidates by emailing Candidate Profiles and arranging Client-Candidate interviews. Once a candidate is chosen, we conduct an extensive Background Check and help negotiate salary and benefits. After the hire, we provide ongoing post-placement support.
We are the experts.
Since 2003, we have successfully completed over 1,000 long-term domestic placements. We know what works and what does not. Our team has the expertise to help avoid common challenges and pitfalls. Anyone can coordinate logistics like schedules, location, and experience – but at MoniCare, we also ensure a match in personality, lifestyle, and values. The success of our business depends on building long-term, satisfying relationships between our clients and candidates.

We have a large database of professional candidates.
Our database contains several thousand pre-screened domestic professionals. These candidates have already passed our rigorous Candidate Screening process, and we are intimately familiar with their work histories and capabilities. We continually interview new candidates, building our pool of qualified, active candidates so that we are always ready when a new client needs our services.
We apply the "Inside-Out Approach".
Before approaching a candidate with a job opening, we determine the specific kind of position the candidate really wants. We recommend that our candidates only pursue positions that match their initial requirements to ensure a successful, long-lasting placement.
We recommend only top quality candidates.
We are highly selective, choosing to work with fewer than 10% of applying candidates. We only recommend the most professional and reliable candidates who match all client requirements. Many of our clients meet the right candidate at their first or third interview - and some clients have a hard time choosing between their top two favorites, which we consider a testament to our excellent work.
We offer a long-term guarantee.
Simply put, we get it right the first time. Our long-term guarantee delivers peace of mind to our clients: in the unlikely event that a replacement is needed, we will conduct another full search at no cost. Our recent survey proved that 98% of our long-term domestic workers retained their jobs for as long as their service was needed. We only work with candidates who commit to long-term employment and sign our minimum 1-year Commitment Agreement.
We have professional staff.
Our office is staffed by well-trained, licensed placement counselors. MoniCare professional recruiters are compassionate and have a strong knowledge in human psychology and domestic employment. We strive to deliver exceptional customer service, with quick response and 100% confidentiality.
We guarantee a timely response.
We keep you informed throughout the search process, and your dedicated counselor is always available for questions. Whether you need a placement within six weeks or just a few days, we will do everything possible to meet your timeline.
We have the highest industry standards.
We have earned an excellent reputation among Chicago families and candidates by upholding the highest industry standards of professional ethics and service. As an active member of the International Nanny Association (INA) since 2007, we adhere to their Commitment to Professional Excellence and Recommended Practices.
We are licensed, bonded, and insured.
We have been licensed and bonded with the Illinois Department of Labor since 2003.