Client Testimonials
"We are beyond thrilled with our nanny that we found through MoniCare ...more"
"We highly recommend MoniCare Nannies services to other families ...more"
Dedicated Housekeeper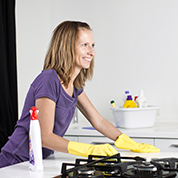 June Special
$100 Discount on some Housekeeper Positions!
Enjoy more quality time with your family by hiring a dedicated housekeeper who will clean every nook and cranny of your home on a regular basis.
MoniCare housekeepers tackle all cleaning tasks with meticulous attention to detail. Our agency only recommends housekeepers who have experience cleaning private homes. MoniCare housekeepers are skilled in laundering and pressing clothes of various fabrics. They are also experienced in caring for high-end finishes, including antiques, hardwood, marble, and silver.
MORE
A housekeeper's responsibilities are tailored to each client's needs. Some positions require general housekeeping and laundering, while others also include grocery shopping, running errands, driving school-age children, and cooking.
Housekeeper duties include:
Dusting
Vacuuming
Mopping
Polishing and waxing
Laundry and ironing
Dropping off and picking up dry-cleaning
Cleaning bathrooms
Making beds and changing sheets
Organizing closets
Shopping for groceries and household supplies
Watering plants
Accepting home deliveries
Cooking
MoniCare places housekeepers for long-term positions, both full-time and part-time (minimum of 4 hours per week).The hourly salary for a housekeeper is $20 - $25, depending on experience, qualifications, duties, and work hours.
Fee and Guarantee:
Review our Fee Schedule. The fee includes a full search, extensive background check, and long-term guarantee. We commit to conducting another full search at no additional cost to you in the unlikely event that a hired candidate becomes unavailable or does not work out.
To start your search:
Review our Placement Process.
Fill out our Client Application and sign the Client Agreement. We will contact you within 4 business hours.
LESS
12
Monika Dinsmone
Founder and Executive Director

Grace Gall
Placement Director

Sarah Kelly
Placement Counselor

Abigail Thunder Free
Recruiter

MEMBER OF:





PARTNER WITH:
FOLLOW US: