Housekeeping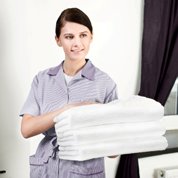 Apply »
April Special
$100 Discount on all Housekeeper Positions!
The main benefit of hiring a housekeeper instead of using a maid service is the quality of work and attention to detail you receive from a dedicated employee. Maid services are generally not able to send the same cleaning crew every time, which can diminish the quality of the service.
By hiring a long-term housekeeper, you ensure that the same person will clean your home every time. A private housekeeper becomes familiar with your home's layout and cleans with precise attention to detail.
MoniCare's housekeeping personnel are highly experienced, reliable and trustworthy. We place housekeeping workers for long-term positions on a full-time or part-time basis (minimum of 4 hours per week).
Which housekeeping position do you need to fill?
- Housekeeper
- Executive Housekeeper
- Laundress
Fee and Guarantee:
Review our Fee Schedule. The fee includes a full search, extensive background check, and long-term guarantee. We commit to conducting another full search at no additional placement fee to you in the unlikely event that a hired candidate becomes unavailable or does not work out.
To start your search:
Review our Placement Process.
Fill out our Client Application and sign the Client Agreement. We will contact you within 4 business hours.
Call us for a complimentary Client Consultation:

312-280-5200 708-588-1111 (Chicago, South and West Suburbs)
847-221-6200 630-315-0555 (North and Northwestern Suburbs)
We will contact you in 1 business hour
Fill out at least 80% of your application
Licensed and bonded with Illinois Department of Labor since 2003.
Proud member of the International Nanny Association (INA), adhering to the highest industry standards of professional ethics and service.
32
FOLLOW US: