Client Testimonials
"We are beyond thrilled with our nanny that we found through MoniCare ...more"
"We highly recommend MoniCare Nannies services to other families ...more"
Butler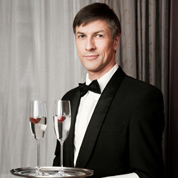 Butlers are a specialized type of household staff responsible for efficiently running a formal household and meeting the employer's personal needs. A butler is the embodiment of courtesy, discretion, and etiquette.
MoniCare butlers are well-educated and have professional training in the field. Their knowledge ranges from formal serving protocol and household maintenance to personnel management and fundamental accounting skills. Our butlers understand the importance of flawless social etiquette, privacy, confidentiality, and problem solving.
MORE
Butler duties include many practical tasks. A butler position is very personal and hands-on, including such duties as personal shopping, wardrobe maintenance, correspondence, travel arrangement, and chauffeur service.
Other butler duties include:
Answering the residence phone
Receiving and greeting guests
Serving meals and drinks
Setting and serving a formal table
Light cooking
Light housekeeping
Running errands
Grocery shopping
Household shopping
Caring for wardrobe
Packing and unpacking for trips
Coordinating travel arrangements
Managing household budget
Paying household bills
Planning and executing social events
Maintaining the wine cellar
Caring for fine china, art, and antiques
Supervising other household staff
Supervising outside vendors and contractors
Managing home repairs and maintenance services
Overseeing the home security system
We place butlers for long-term come-and-go and live-in positions, full-time only (a minimum of 40 hours per week). The butler's full-time annual salary is $40,000-$80,000 depending on credentials, experience, and duties.
Fee and Guarantee:
Review our Fee Schedule. The fee includes a full search, extensive background check, and long-term guarantee. We commit to conducting another full search at no additional cost to you in the unlikely event that a hired candidate becomes unavailable or does not work out.
To start your search:
Review our Placement Process.
Fill out our Client Application and sign the Client Agreement. We will contact you within 4 business hours.
LESS
15
Monika Dinsmone
Founder and Executive Director

Grace Gall
Placement Director

Sarah Kelly
Placement Counselor
Candidate Director


Abigail Thunder Free
Recruiter

MEMBER OF:





PARTNER WITH:
FOLLOW US: