Client Testimonials
"We are beyond thrilled with our nanny that we found through MoniCare ...more"
"We highly recommend MoniCare Nannies services to other families ...more"
Live-in Nanny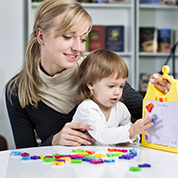 For busy parents with demanding careers, live-in nannies offer compassionate care with much needed flexibility and convenience. A live-in nanny is a popular solution for parents who have long and unpredictable work hours or frequent business trips (i.e., doctors or business executives). In this childcare arrangement, the nanny works full-time and also lives with the family.
Live-in nannies work anywhere from 8-12 hours a day for 5 or 6 days per week. Although they have a set work schedule, they are expected to cover a certain number of extra morning or evening hours as needed. The maximum number of extra hours should be specified in the employment agreement, and any additional hours will be compensated. Live-in nannies generally get time off during weeknights and weekends.
MORE
In addition to a salary, live-in nannies are provided room and board, which may be a separate bedroom with a private bathroom, a separate wing in the house, or a separate apartment. As most live-in nannies do not own a car, the employer is responsible for providing a vehicle for work purposes.
MoniCare live-in nannies are diligent, reliable, and energetic. A live-in nanny placement requires more time and resources, so we recommend starting the search for a live-in nanny as early as possible.
Live-in nanny duties are the same as come-and-go nanny duties. We place live-in nannies for full-time positions only. The weekly salary for a live-in nanny is $1000-$1500 depending on experience, number of work days, and job duties.
To see the professional nannies we have placed in your neighborhood, visit Meet Our Nannies.
Fee and Guarantee:
There is no fee to start the search, and no application fee. Our placement fee applies only upon a successful hire. Review our Nanny Placement Fee Schedule. The fee includes a full search, extensive background check, and long-term guarantee. We also commit to conducting another full search at no additional placement fee to you in the unlikely event that a hired candidate becomes unavailable or does not work out. Review our Agency Guarantee.
To start your search:
Review our Placement Process.
Fill out our Client Application and sign the Client Agreement. We will contact you within 4 business hours.

LESS
21
Monika Dinsmone
Founder and Executive Director

Grace Gall
Placement Director

Sarah Kelly
Placement Counselor
Candidate Director


Abigail Thunder Free
Recruiter

MEMBER OF:





PARTNER WITH:
FOLLOW US: