Nanny - Child Educator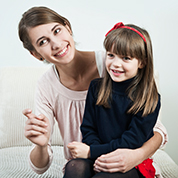 Apply »
May Special
$100 Discount on all Full-Time Nanny Positions!
If you want an experienced, educated and creative nanny who can provide a comprehensive learning environment, a nanny-child educator might be the right position for you. These candidates can provide educational activities/setting similar to a school curriculum.
As a nanny-child educator our candidates will be responsible for providing a daily structure including creative activities, arts and crafts, field trips, science experiments, and a variety of other applied learning opportunities.
Nanny Child educators have a minimum of an Associate's Degree (early childhood education/related childcare degree) and prior experience working in a daycare and/or teaching setting.
The hourly salary for a nanny-child educator is $23.00 - $30.00, depending on experience, qualifications, job duties, and number of work hours.
Call us for a complimentary Client Consultation:

312-280-5200 708-588-1111 (Chicago, South and West Suburbs)
847-221-6200 630-315-0555 (North and Northwestern Suburbs)
We will contact you in 1 business hour
Fill out at least 80% of your application
Licensed and bonded with Illinois Department of Labor since 2003.
Proud member of the International Nanny Association (INA), adhering to the highest industry standards of professional ethics and service.
26
FOLLOW US: