Grace Gall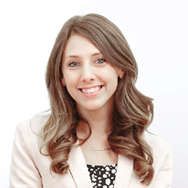 Grace Gall is a Placement Director at MoniCare. She is in charge of client relations and leadership of the MoniCare placement team. Grace ensures every client receives an exceptional experience and builds a successful work relationship with their employees.
She is responsible for placing the most qualified nannies, household managers, housekeepers, and other domestic staff professionals. Grace exhibits excellent psychological profiling skills and enjoys matching the needs, lifestyles and personalities of families and domestic staff. Grace is an empathic listener and truly understands the needs of MoniCare clients and candidates. She loves working in a fast-paced environment and is an experienced multi-tasker. Grace is also very personable and makes an effort to get to know both our clients and candidates very closely. One of her passions is to make a difference in people's lives and working at MoniCare allows her to do this.
Before working at MoniCare, Grace was a Therapist Liaison at a center for children with autism. Grace was the lead recruiter in hiring and selecting therapists for families. She also trained incoming and current staff and ensured the quality assurance of all clinical services. Grace enjoyed matching therapists with families, which has transferred perfectly to her position as a Placement Counselor and Director at MoniCare. She also served as a Behavior Therapist at the center for 3 years and worked 1:1 with children (ages 0-21) with autism and related disorders. This blossomed Grace's passion for working with families and children.
Grace earned her Bachelor's degree in Psychology at the University of Illinois at Urbana Champaign.
During her time in college, Grace interned for the Girls Advocacy Project where she worked with young girls in the juvenile justice system. She also worked as a nanny and has first-hand experience of what it takes to be a professional nanny.
In her spare time, Grace enjoys staying active by running, doing yoga, and going on adventures with her nieces and nephew. She also enjoys cooking and trying new restaurants in the Chicago area.
From Grace: 14 Interesting Personal Facts about Me
1. When I was little I dreamed of being: A teacher
2. The bravest thing I ever did: Ziplining through the rainforest in Jamaica
3. I am scared of: Spiders and clowns
4. I love to: Spend time with family and friends, travel and exercise
5. I hate: Liars
6. Most important thing in life: Family
7. My dearest wish: For everyone to find love and happiness in their life
8. Perfect day: Going for a run and then relaxing on the beach with my fiance and dog
9. My life-to-do-list includes: Have three children, travel and adopt another dog
10. Unique fact about you: I'm allergic to rabbits
11. Places I have lived: Grayslake, Michigan, Chicago & currently Oak Park
12. Indulgence: I have the biggest sweet tooth
13. Motto: All you need is love…and a dog
14. Inspiration: Great music

Call us for a complimentary Client Consultation:

312-280-5200 708-588-1111 (Chicago, South and West Suburbs)
847-221-6200 630-315-0555 (North and Northwestern Suburbs)
We will contact you in 1 business hour
Fill out at least 80% of your application
Licensed and bonded with Illinois Department of Labor since 2003.
Proud member of the International Nanny Association (INA), adhering to the highest industry standards of professional ethics and service.
28
FOLLOW US: