Personal Assistant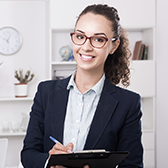 MoniCare personal assistants provide administrative support for business, personal, and family-related tasks. Typically, personal assistants work from an employer's home office, but can also be based in a corporate office. They adapt to the needs of their employer, work well under pressure, and handle difficult situations with tact.
Personal assistants have a diverse range of qualifications, as their job descriptions are tailored to the employer's needs. MoniCare personal assistants have strong communication skills, proper social and business etiquette, and are discreet and trustworthy.
MoniCare personal assistants have Bachelor's degrees and professional experience in fast-paced business environment. They possess strong writing and verbal skills, are proficient with computers and the Internet, and have fundamental accounting knowledge. Our candidates are creative resourceful problem solvers with strong time management skills.
MORE
Personal assistant duties include:
Serving as an office assistant
Answering phones
Managing mail and answering inquiry letters
Managing calendars and setting reminders
Coordinating family agendas
Conducting general research
Organizing the home or office
Running business and personal errands
Planning social and business events
Paying household bills
Making restaurant and hotel reservations
Researching vacation destinations
Booking vacation packages, plane tickets, and car rentals
Traveling with the employer or employer's family
We place personal assistants for long-term come-and-go and live-in positions, full-time or part-time. The hourly salary for a personal assistant is $15.00 - $20.00 (junior position, no degree required) and $18.00 - $30.00 (upper-level position, degree required), depending on credentials, experience, and position requirements.
Fee and Guarantee:
Review our Fee Schedule. The fee includes a full search, extensive background check, and long-term guarantee. We commit to conducting another full search at no additional cost to you in the unlikely event that a hired candidate becomes unavailable or does not work out.
To start your search:
Review our Placement Process.
Fill out our Client Application and sign the Client Agreement. We will contact you within 4 business hours.
LESS
Call us for a complimentary Client Consultation:

888-654-8475
We will contact you in 1 business hour
Fill out at least 80% of your application
25
Monika Dinsmone
Founder of MoniCare Nannies and Household Staffing, Inc.

Grace Gall
Placement Director

MEMBER OF:





PARTNER WITH:
FOLLOW US: