Client Testimonials
"We are beyond thrilled with our nanny that we found through MoniCare ...more"
"We highly recommend MoniCare Nannies services to other families ...more"
Nanny-Household Manager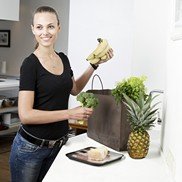 Families with school-aged children are most likely to hire a Nanny-Household Manager. Often, this position is a natural progression from an original Nanny position once the children become older and more self-independent, but still require some care and supervision.
MoniCare nanny-household managers are intelligent, educated, and effective in multitasking. They demonstrate a strong sense of initiative and decision-making skills. Typically, these candidates have several years of nanny and supervisory experience and may work alongside other household staff.
MORE
Nanny-household managers are responsible for both childcare and household management. They start the day by preparing breakfast and driving the children to school. Later in the day, they focus on household tasks such as laundry, grocery shopping, and running errands. In the afternoon, their attention returns to the children: picking them up from school, serving lunch, assisting with homework, and driving them to after-school activities.
Each nanny-household manager position is tailored to the family's needs and can include any combination of childcare and household management duties.
MoniCare places nannies-household managers for long-term full-time and part-time positions. The hourly salary for a nanny-household manager is $25 - $35 per hour, depending on experience, qualifications, job duties, and number of work hours.
To see the professional nannies we have placed in your neighborhood, visit Meet Our Nannies.
Fee and Guarantee:
There is no fee to start the search, and no application fee. Our placement fee applies only upon a successful hire. Review our Nanny Placement Fee Schedule. The fee includes a full search, extensive background check, and long-term guarantee. We also commit to conducting another full search at no additional placement fee to you in the unlikely event that a hired candidate becomes unavailable or does not work out. Review our Agency Guarantee.
To start your search:
Review our Placement Process.
Fill out our Client Application and sign the Client Agreement. We will contact you within 4 business hours.

LESS
15
Monika Dinsmone
Founder and Executive Director

Grace Gall
Placement Director

Sarah Kelly
Placement Counselor
Candidate Director


Abigail Thunder Free
Recruiter

MEMBER OF:





PARTNER WITH:
FOLLOW US: