Client Testimonials
"We are beyond thrilled with our nanny that we found through MoniCare ...more"
"We highly recommend MoniCare Nannies services to other families ...more"
Private Chef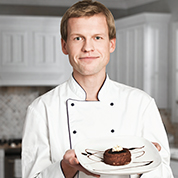 Chef Hiring Options:
Full-Time
Part-Time
Enjoy fresh, nutritious home-cooked meals prepared by a private chef. Our private chefs have formal education in the culinary arts and experience preparing cuisine for fine restaurants and formal households. Our household chefs prepare a variety of simple, delicious everyday dishes.
MORE
MoniCare chefs prepare foods to suit each family's taste. Our candidates are experienced with a variety of cuisines, including Italian, French, Thai, Japanese, Chinese, Mexican. They can prepare foods according to your dietary requirements, such as vegetarian, vegan, kosher, macrobiotic, gluten-free, low-fat, low-sodium, diabetic, and for sports nutrition.
Our private chefs will prepare lunch and dinner for your family, or dinner only. They can also prepare extra meals and snacks, as well as food for parties and entertaining.
A private chef's duties go well beyond menu planning and cooking. They do grocery shopping and select the appropriate wine pairings. They also stock pantries and keep the kitchen clean and well organized.
We place Chicago private chefs for long-term come-and-go and live-in positions, both full-time and part-time (minimum of 8 hours per week). A chef's hourly wage ranges from $25 - $80/hour depending on expertise, experience, and position requirements.
Scenario: 1-3 days per week
A great setting for a single professional or a couple looking for a chef to either prepare a few meals per week or to do full meal planning for the week. With this option, the chef is able to prepare meals for the entire week and can package and prepare reheating instructions.
Scenario: 3-5 days per week
Daily meal and nutrition planning will change your perception of food and well-being. Recommended to anyone willing to improve their eating habits and transform the quality of life. Hiring a chef for 3-5 days is a great option for a family with kids where you would need larger meals and variety to appeal to your children.
LESS
12
Monika Dinsmone
Founder and Executive Director

Grace Gall
Placement Director

Sarah Kelly
Placement Counselor

Abigail Thunder Free
Recruiter

MEMBER OF:





PARTNER WITH:
FOLLOW US: