Candidate Screening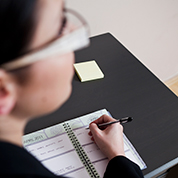 Our domestic candidate screening process is rigorous. We approve and recommend only the top 10% of most qualified applicants. We only work with highly professional, experienced, competent, intelligent, and caring individuals. We screen not only for work experience and availability, but also essential traits like loyalty, stability, kindness, and a strong work ethic. We currently have several thousand fully pre-screened qualified candidates in our database who meet all 24 Agency Requirements.
Minimum Agency Requirements
To apply with MoniCare, every candidate must pass our Pre-qualification and meet the minimum agency requirements.
Job Seeker Application
Applicants who meet our minimum requirements must complete our extensive Job Seeker Application consisting of 11 pages and more than 240 questions. It gathers biographical information, work experience, employment references, education, occupational training, skills, language abilities, health condition, driving status, self-assessment, and more.
Phone Interview
If an application is strong, we conduct a 20-minute phone interview with the candidate. During the phone interview, we evaluate the domestic candidate's professionalism, self-presentation, English language skills, and overall attitude.
In-person Interview
If the phone interview is strong, we conduct a 60-minute in-person interview with the candidate at our agency's office. During this interview we cover a variety of topics, including work experience, education, training skills, job requirements and expectations. We also evaluate factors such as professionalism, communication skills, sincerity, and integrity. To ensure that we get to know each candidate well we conduct a Candidate Evaluation.
Minimum 1-year Commitment Agreement
We select candidates who demonstrate a consistent, high-performing work history and a stable life situation. For all long-term positions, we work only with candidates who are able to commit to permanent employment and are willing to sign our Minimum 1-year Commitment Agreement. If a candidate is highly qualified but not available for long-term work, we may offer short-term assignments.
Reference Verification
We contact candidate's previous employers to verify employment and the level of performance and fill out a Reference Verified Form. We select candidates with outstanding work reviews.
Reference Letters, Diplomas and Certificates
We collect all supporting documentation for each candidate, including reference letters, education diplomas or transcripts, continuing education or training certificates, and CPR or First Aid certificates. We photocopy candidate's driver's license, government-issued photo ID, US passport, US green card, or US employment authorization card. All of these documents are available to you when you choose to hire a MoniCare candidate.
Extensive Background Check
We conduct a full background check, which includes: County Criminal Background Report, National Criminal Background Report, Driving History Report, Social Security Trace, Sex Offenders Check, and National Terrorist Check. Report results are received in less than 4 business days. All background reports results are provided to you when you choose to hire a MoniCare nanny.
CPR and Domestic Physical
The IL Department of Labor requires that all domestic employees receive an annual physical examination to safeguard the health of employers and their families. Physical examination is conducted by a family physician. We provide the Domestic Physical Examination Form to all clients and candidates.
For candidates who need to renew or obtain a CPR certificate, we assist with the class location information.