Client Testimonials
"We are beyond thrilled with our nanny that we found through MoniCare ...more"
"We highly recommend MoniCare Nannies services to other families ...more"
Housekeeper - Household Manager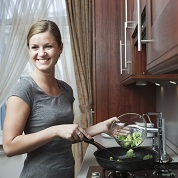 Special
$ Discount on some Housekeeper Positions!
Busy professionals are likely to need a Housekeeper-Household Manager. These specialized positions encompass a long list of household duties. Housekeeper-Household Managers can really do everything needed to run a home.
On the housekeeping side, the manager will be responsible for all housekeeping duties, including deep cleaning of all rooms, laundry, organizing closets, and caring for fine furniture and antiques. On the household management side, the manager will run errands, do the grocery shopping, pick up children from school if necessary, coordinate house maintenance services, accept deliveries, and often times cook meals as well.
MORE
Housekeeper-Household Managers can work in homes with or without children. In a family with children, the manager may work in conjunction with a nanny or may serve as a nanny when the children are home from school. In a family without children, the manager works as a personal home assistant with the client, taking care of the client's needs outside of the office.
Each Housekeeper-Household Manager position is tailored to the family's specific requirements and can include any combination of housekeeping and household management duties.
MoniCare places Housekeeper-Household Managers for long-term full-time and part-time positions. The hourly salary for a Housekeeper-Household Manager is $30 - $45 per hour, depending on experience, qualifications, job duties, and number of work hours.
Fee and Guarantee:
Review our Fee Schedule. The fee includes a full search, extensive background check, and long-term guarantee. We commit to conducting another full search at no additional cost to you in the unlikely event that a hired candidate becomes unavailable or does not work out.
To start your search:
Review our Placement Process.
Fill out our Client Application and sign the Client Agreement. We will contact you within 4 business hours.
LESS
15
Monika Dinsmone
Founder and Executive Director

Grace Gall
Placement Director

Sarah Kelly
Placement Counselor
Candidate Director


Abigail Thunder Free
Recruiter

MEMBER OF:





PARTNER WITH:
FOLLOW US: