Nanny Childcare Duties and Tasks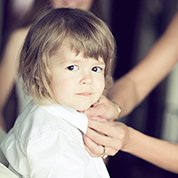 Each family has unique requirements, which means all nannies have a slightly different focus. There are many variables, such as ages of the children, dietary restrictions, favorite activities, and any special needs. Regardless of the situation, quality childcare is always top priority for a nanny.
Aside from childcare, nannies may be responsible for other child-related tasks, such as doing laundry, helping with homework, and organizing activity schedules. Household management tasks like running errands or organizing are generally added only if a nanny is caring for school-aged children.

Nanny Childcare Tasks:
All duties listed below are regular nanny tasks.

Newborn care (feeding, diapering, naptimes)
Preparing bottles, cleaning up
Cooking for children
Bathing and dressing children
Helping children with general hygiene
Driving children to school and activities
Organizing children's play dates
Assisting with language acquisition and development
Providing developmentally appropriate educational games
Teaching letters, numbers, and colors
Teaching manners and other socially appropriate behavior
Doing arts and crafts
Reading books
Going to the library
Assisting with homework
Taking children to parks and playgrounds
Organizing sports and other motor-skills activities
Taking children on special outings to museums and the zoo
Doing children's laundry
Making children's beds
Tidying up children's rooms and bathrooms
Organizing and cleaning children's play area
Cleaning up in the kitchen
Loading, running, and emptying the dishwasher
Nanny Household Management Tasks:
Age and number of children determine if any household tasks can be added to a regular nanny's job description. If a nanny is working with older, school-aged children, then she may be able to take on additional tasks, such as family laundry and cooking. If a nanny is working with newborns, toddlers, or preschoolers, she may not be able to take on any or very few additional tasks, as full attention needs to be paid to the children.

Making parents' beds
Doing parents' laundry
Washing bed linens and towels
Dropping off and picking up dry cleaning
Preparing family's dinner
Grocery shopping
Household supply shopping
Picking up around the house
Running errands
Purchasing children's clothing
Completing store returns and exchanges
Organizing closets
Organizing kitchen cabinets
Taking family's vehicle to the gas station, car wash, and service station
Scheduling and managing home repairs and maintenance services
Packing and unpacking for family trips
House sitting while family is away
Watering indoor plants
Feeding pets, walking dogs
At MoniCare, we ensure that all recommended nannies have the right level of experience to meet each family's expectations.
For a list of professional nannies we have placed in your neighborhood, visit Meet Our Nannies.