Temporary Nanny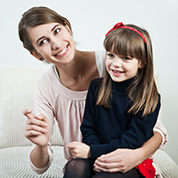 MoniCare's temporary nannies provide professional childcare to families on a short-term basis. Clients often use this service when they are in between nannies, still determining on a long-term childcare solution, need a nanny to accompany the family on vacation, or need extra coverage for an extended period of time. A temporary nanny can be booked for several weeks or months on a part-time or full-time basis.
A temporary nanny's hourly salary is $15-$25 per hour, depending on the childcare provider's level of experience and the number and ages of children. Rate is determined at the beginning of the search.
Temporary Nanny Placement Fee:
20% of total employee's gross salary for up to 180 day job (minimum fee $1200)
One-Time Temporary Nanny Placement Fee Includes:
1. A customized search for your position.
2. In-person or phone interviews with interested candidates.
3. A guarantee for same nanny for the needed time period.
4. Extensive background check on the hired nanny.
Temporary Nanny Service Guarantee:
A replacement search within the needed duration (usually 4-6 weeks), should the initially hired temporary nanny leave the position for any reason within that time period.
For shorter 1-30 day assignments, explore our On-Call Nanny Service.
Call us for a complimentary Client Consultation:

312-280-5200 708-588-1111 (Chicago, South and West Suburbs)
847-221-6200 630-315-0555 (North and Northwestern Suburbs)
We will contact you in 1 business hour
Fill out at least 80% of your application
Licensed and bonded with Illinois Department of Labor since 2003.
Proud member of the International Nanny Association (INA), adhering to the highest industry standards of professional ethics and service.
27
FOLLOW US: