Companion for Seniors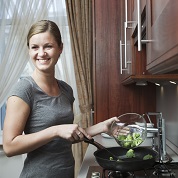 A companion serves as a personal assistant and works from the employer's home. MoniCare companion helps to organize the household and enjoy active social life.
NOTE: MoniCare does not place companions for seniors with medical conditions that require daily medical supervision. Our companions are not allowed to administer drugs or provide any other specialized medical assistance.
MoniCare companions for seniors, much like personal assistants, perform daily household management tasks, including:
• Light housekeeping
• Cooking, meal planning
• Managing calendars and setting reminders
• Coordinating family agendas
• Organizing the home or office
• Running personal errands
• Planning personal events
• Paying household bills
• Making reservations
• Driving to appointments
• Organizing family and social events
By working with MoniCare, you'll gain access to the best companions in Chicago area. We recruit, select and refer only exceptional companions with 2-10 years of professional domestic service experience.
Call us for a complimentary Client Consultation:

312-280-5200 708-588-1111 (Chicago, South and West Suburbs)
847-221-6200 630-315-0555 (North and Northwestern Suburbs)
We will contact you in 1 business hour
Fill out at least 80% of your application
Licensed and bonded with Illinois Department of Labor since 2003.
Proud member of the International Nanny Association (INA), adhering to the highest industry standards of professional ethics and service.
32
FOLLOW US: