Laundress In Philadelphia, Tennessee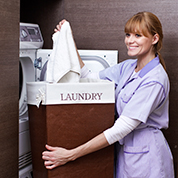 APPLY »
As part of our housekeeping services, MoniCare laundresses handle all household laundry duties. Their responsibilities are to maintain and preserve fine clothing and all household fabrics. They are experienced in the proper stain removal, washing, drying, and ironing of a variety of fabrics, such as silk, cotton, linen, wool, and cashmere.
Laundress duties include:
Washing clothes
Washing towels
Washing bed linens
Washing table linens
Dropping off and picking up dry-cleaning
Spot cleaning
Hand washing
Sewing and mending
Shoe maintenance
Seasonal closet rotation
Ironing clothes
Ironing bed linens
Ironing tables linens
Ironing men's shirts
Steam-pressing fabrics
We place laundresses for long-term, come-and-go positions on a full-time or part-time basis (minimum of 8 hours per week). The hourly salary for a laundress in Philadelphia, Tennessee is $15 - $25 depending on experience, qualifications, duties, and work hours.
Estate positions filled by MoniCare:
Private Chef
Personal Assistant
Executive Housekeeper
Laundress
Household Manager
Butler
Estate Manager
Chauffeur
Domestic Couple
Companion for Seniors
Call us for a complimentary Client Consultation:

312-280-5200 708-588-1111 (Chicago and Southwest Suburbs)
847-221-6200 630-315-0555 (Northshore and Western Suburbs)
We will contact you the same business day
Complete 80% of the application or more
Successfully in business since 2003.
Licensed and bonded with Illinois Department of Labor.
Proud member of the International Nanny Association (INA), adhering to the highest industry standards of professional ethics and service.
21
Monika Dinsmone
Founder of MoniCare Nannies and Household Staffing, Inc.

Grace Gall
Placement Director

MEMBER OF:





PARTNER WITH:
FOLLOW US: