Executive Housekeepers in Philadelphia, Tennessee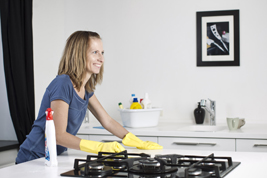 Have your house shine like a five-star hotel by hiring a MoniCare executive housekeeper. These specialized housekeepers have experience working for larger homes in Philadelphia, Tennessee both independently and alongside other domestic staff.
MoniCare executive housekeepers are attentive to detail and have strong supervisory skills. They work well both alone and as part of a team. Executive housekeepers have experience cleaning fine furnishings, antiques, and collectibles. They can also manage inventory, order supplies, and effectively train and supervise other cleaning staff.
In addition to managerial tasks, MoniCare executive housekeepers perform all hands-on duties like dusting, vacuuming, mopping, polishing, laundering, making beds, and organizational tasks.
Executive Housekeeper duties include:
Maintaining set cleaning standards
Keeping the home in a pristine condition at all times
Training and supervising cleaning staff
Performing hands-on meticulous cleaning
Washing and pressing fabrics
Running errands
Ordering household cleaning supplies
Researching cleaning products for specialty items
Conducting inventory
Caring for fine art, antiques, and collectables
Supervising repair and maintenance services
MoniCare places housekeepers in Philadelphia, Tennessee for long-term come-and-go and live-in positions on a full-time or part-time basis (minimum of 30 hours per week). The executive housekeeper's hourly salary is $19-$35, depending on experience, qualifications, duties, and work hours.
Estate positions filled by MoniCare:
Private Chef
Personal Assistant
Executive Housekeeper
Laundress
Household Manager
Butler
Estate Manager
Chauffeur
Domestic Couple
Companion for Seniors
Call us for a complimentary Client Consultation:

312-280-5200 708-588-1111 (Chicago and Southwest Suburbs)
847-221-6200 630-315-0555 (Northshore and Western Suburbs)
We will contact you the same business day
Complete 80% of the application or more
Successfully in business since 2003.
Licensed and bonded with Illinois Department of Labor.
Proud member of the International Nanny Association (INA), adhering to the highest industry standards of professional ethics and service.
21
Monika Dinsmone
Founder of MoniCare Nannies and Household Staffing, Inc.

Grace Gall
Placement Director

MEMBER OF:





PARTNER WITH:
FOLLOW US: