Chauffeurs in Philadelphia, Tennessee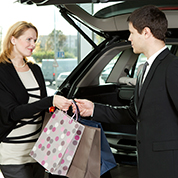 Chauffeurs are responsible for driving family members and their guests to business meetings, medical appointments, and social and personal engagements. If the family has children, the driver takes them to school and extracurricular activities.
Chauffeurs also oversee mechanical maintenance and interior upkeep to ensure clean, smoothly running vehicles. Typically, the driver is responsible for maintaining the garage area as well.
MoniCare chauffeurs have exemplary driving records. They offer competent, timely transport service with a focus on privacy and courtesy. Our Philadelphia, Tennessee chauffeurs know the city well and can make accurate route adjustments to avoid traffic.
We place chauffeurs for long-term come-and-go and live-in positions, both full-time and part-time. The Philadelphia, Tennessee chauffeur's full-time annual salary is $40.000 - $80.000, depending on credentials, experience, and job duties.
Estate positions filled by MoniCare:
Private Chef
Personal Assistant
Executive Housekeeper
Laundress
Household Manager
Butler
Estate Manager
Chauffeur
Domestic Couple
Companion for Seniors
Call us for a complimentary Client Consultation:

312-280-5200 708-588-1111 (Chicago and Southwest Suburbs)
847-221-6200 630-315-0555 (Northshore and Western Suburbs)
We will contact you the same business day
Complete 80% of the application or more
Successfully in business since 2003.
Licensed and bonded with Illinois Department of Labor.
Proud member of the International Nanny Association (INA), adhering to the highest industry standards of professional ethics and service.
21
Monika Dinsmone
Founder of MoniCare Nannies and Household Staffing, Inc.

Grace Gall
Placement Director

MEMBER OF:





PARTNER WITH:
FOLLOW US: