Butler In Philadelphia, Tennessee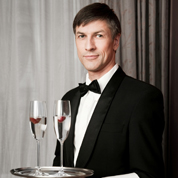 Butlers are a specialized type of household staff responsible for efficiently running a formal household and meeting the employer's personal needs. A butler is the embodiment of courtesy, discretion, and etiquette.
MoniCare butlers are well-educated and have professional training in the field. Their knowledge ranges from formal serving protocol and household maintenance to personnel management and fundamental accounting skills. Our butlers understand the importance of flawless social etiquette, privacy, confidentiality, and problem solving.
Butler duties include many practical tasks. A butler position is very personal and hands-on, including such duties as personal shopping, wardrobe maintenance, correspondence, travel arrangement, and chauffeur service.
Other butler duties include:
Answering the residence phone
Receiving and greeting guests
Serving meals and drinks
Setting and serving a formal table
Light cooking
---------------------------------------------------------------------------
Managing home repairs and maintenance services
Overseeing the home security system
We place butlers for long-term come-and-go and live-in positions, full-time only (a minimum of 40 hours per week). The Philadelphia, Tennessee butler's full-time annual salary is $40,000-$80,000 depending on credentials, experience, and duties.
Estate positions filled by MoniCare:
Private Chef
Personal Assistant
Executive Housekeeper
Laundress
Household Manager
Butler
Estate Manager
Chauffeur
Domestic Couple
Companion for Seniors
Call us for a complimentary Client Consultation:

312-280-5200 708-588-1111 (Chicago and Southwest Suburbs)
847-221-6200 630-315-0555 (Northshore and Western Suburbs)
We will contact you the same business day
Complete 80% of the application or more
Successfully in business since 2003.
Licensed and bonded with Illinois Department of Labor.
Proud member of the International Nanny Association (INA), adhering to the highest industry standards of professional ethics and service.
21
Monika Dinsmone
Founder of MoniCare Nannies and Household Staffing, Inc.

Grace Gall
Placement Director

MEMBER OF:





PARTNER WITH:
FOLLOW US: